Certifications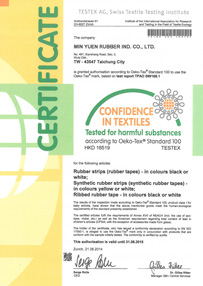 OEKO-TEX Standard 100 Class 1
(Origin: cited from OEKO-TEX official site)
The OEKO-TEX® Standard 100 is an independent testing and certification system for textile raw materials, intermediate and end products at all stages of production. Examples for items eligible for certification: Raw and dyed/finished yarns, raw and dyed/finished fabrics and knits, ready-made articles (all types of clothing, domestic and household textiles, bed linen, terry cloth items, textile toys and more).
Testing for harmful substances includes:
illegal substances
legally regulated substances
known harmful (but not legally regulated) chemicals
as well as parameters for health care
In their entirety the requirements clearly exceed existing national legislation.
Laboratory tests and product classes
OEKO-TEX® testing for harmful substances always focus on the actual use of the textile. The more intensive the skin contact of a product, the stricter the human ecological requirements to be met.
Product class I
Textile items for babies and toddlers up to 3 years (clothing, toys, bed linen, terry cloth items etc.)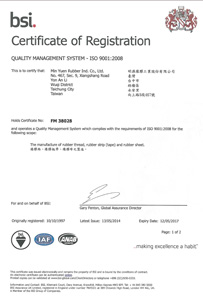 ISO 9001:2008 Management System
The ISO 9000 family addresses various aspects of quality management and contains some of ISO's best known standards. The standards provide guidance and tools for companies and organizations who want to ensure that their products and services consistently meet customer's requirements, and that quality is consistently improved.
ISO 9001:2008
ISO 9001:2008 sets out the criteria for a quality management system and is the only standard in the family that can be certified to.
This standard is based on a number of quality management principles including a strong customer focus, the motivation and implication of top management, the process approach and continual improvement.
Using ISO 9001:2008 helps ensure that customers get consistent, good quality products and services.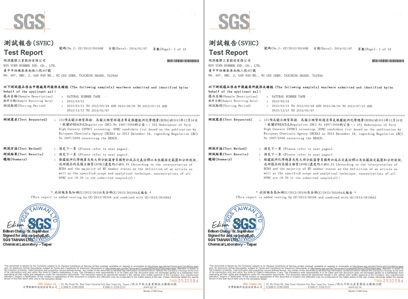 REACH Test Report
REACH is a regulation of the European Union, adopted to improve the protection of human health and the environment from the risks that can be posed by chemicals, while enhancing the competitiveness of the EU chemicals industry. It also promotes alternative methods for the hazard assessment of substances in order to reduce the number of tests on animals.
Test Report List
No.
Institute
Content
1
BSI
ISO 9001:2008
2
TESTEX
Oeko-Tex Standard 100 Class 1
3
SGS
Updated to REACH Regulations:
Candidate List of 154 SVHCS
Candidate List of the First Annex XIV
Recommendation 2014.06
4
SGS
VOC (MBT FREE)
5
TÜV Rheinland
Formaldehyde Free
6
SGS
C&A Component Test
7
ITRI
Fire Retardant (UL94 V-0 Standard)
8
SGS
Latex Free
9
SGS
BHT
10
SGS
PFOA/PFOS
11
TÜV Rheinland
PAHS
12
TÜV Rheinland
DMF
13
ITS
FDA U.S. 21 CFR Regulation Part 177. 2600
14
SGS
ROHS
15
Lab Test
Qualified test reports by world famous brands in sportswear, swimwear, medical products